Amazon Kindle Oasis 2017 review: the Rolls-Royce of e-readers
Amazon's new top-end e-reader is now water resistant, but is the all aluminium Kindle Oasis still the luxury option to buy?
While the original Kindle Oasis was a big step forward in e-reader design, the 2017 Oasis is more of a refinement with fewer of the compromises made last year for fit and form.
The new model has a similar asymmetric shape to its predecessor, with one thicker side having page-turn buttons, a power button and the microUSB charging port. The other, thinner side contains the new, larger 7in E-ink screen, which is an inch bigger than the last model and the biggest fitted to a Kindle since the 9.7in DX line, which was discontinued in 2013.
Where the 2016 Oasis had a small battery in the reader itself and a larger battery in the case, which charged the internal battery, the new Oasis has a larger battery built-in, capable of "six weeks of reading" – enough to read around two 350-page novels even at my slow pace. It's a more elegant solution, but the larger battery and bigger screen mean the body of the Oasis now weighs 63g more, at 194g.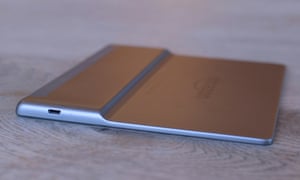 While it is no longer feather-light, it's not heavy either, and the solid aluminium body feels more sturdy, meaning I'm less worried about it breaking in a bag. You also have to hold it differently to be able to still hit both page turn buttons, grasping it halfway up the side with your fingers tucked against the ridge on the back rather than down by the bottom corner.
The buttons are still excellent and it's still comfortable to hold for extended periods. While it's more difficult to fit in a pocket, I appreciated the bigger display, which could fit more text on one page, meaning fewer page turns were required per chapter. It's still as beautifully crisp and easy to read, and now has automatic front-light adjustment.
Specifications
Screen: 7in Paperwhite with frontlight (300ppi)
Storage: 8/32GB
Dimensions: 159 x 141 x 8.3mm (3.4mm at thinnest point)
Weight: 194g
Rated battery life: 6 weeks reading 30 minutes a day
Native format support: Kindle (AZW/AZW3), TXT, PDF, unprotected MOBI, PRC
Water resistance and audiobooks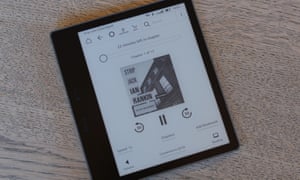 Other than the bigger screen, the two new standout features for the 2017 Oasis are Audible audiobook integration and water resistance, a first for the Kindle line and a feature rivals have had for years. It will survive up to an hour in up to 2m of fresh water, which means trips to the beach or the pool are a bit safer, although don't expect it to float.
You can slot a case into the thinner section on the back, which will hold it on by magnets and can stand the Kindle up on a desk. I tried a fabric case, which is water safe and quite nice, but doesn't feel as luxurious as the leather cover included with the 2016 Oasis (leather versions are available for a higher price than the fabric model).
You may also like...