Street Fighter V: victory and diversity in the eSports world final
The atmosphere in the competitor pen at the 2016 Capcom Cup in Anaheim, California, is weirdly tranquil – despite the stakes. There's a $230,000 cheque waiting for the winner, $60,000 for the runner-up. The room, snugly closed off from a shanty town of flight cases, stage lights and wires behind the sweeping stage is lined with sofas, on which the eight finalists sit. In 10 minutes they will emerge to a full house of hollers and applause, ready to make their bids in the annual competition to crown the best Street Fighter player in the world.
In the middle of the room, two trestle tables sag under the weight of monitors, on which the finalists are free to warm up their fingers with practice games. There are, however, no preparatory or prayerful rituals going on back here; only the idle swiping of phones. I sink into the couch beside 32-year-old Ricki Ortiz, one of two Americans to reach the finals (the other six competitors all come from Street Fighter's home of Japan). What does she do to prepare for a major fixture like this, I ask. "Me?" she says. "I had a quick nap."
Three hours later, Ortiz finds herself in the final two, preparing to compete against young rival Du Dang, who goes by the handle NuckleDu. Dang, 20, has risen quickly through the ranks, competing in Street Fighter IV tournaments with veteran character Guile. Dang is famed for his use of aggressive tactics and in-game taunts to mock opponents; Ortiz is an expert in reading other players and using pinpoint counters. Ortiz has the experience to win, but she's only seeded 26 in this competition. Currently Dang has the form.
It's been a two-day tournament of surprises – or, as I hear one audience member describe it in south London patois, of "blow ups all over". In part, the unexpected results are a function of the game at the centre of it all. Street Fighter V, launched this year, is, most professional players agree, a scrappier, less predictable proposition than its forebears. "It's a very erratic game," explains Ortiz. "The tide can turn quickly. It's hard for players to be consistent, which is good for the crowd because there can be upsets." By the end of the first day of the two-day tournament, many of the odds-on favourites (most major gambling sites now take bets on video game tournaments like this) have been relegated, including Daigo Umehara, the 35-year-old Japanese Street Fighter doyen.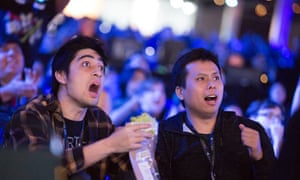 The excitement isn't confined to the room. On Twitch, where the entire tournament is broadcast live around the world with accompanying chatter from so-called shoutcasters (a preposterous, redundant neologism for video game commentators derived from their high-decibel, rapid fire crescendos of observation), close to 100,000 people tune in to watch the final. Many of these viewers tap out their own commentary – sarcastic or jubilant remarks and emoji – via an ever-flowing waterfall of text beneath the video stream. Hive mind jokes flare up then expire like fireworks. Each time a British player loses a match the throng, en mass, posts the word "BREXIT!" to mark the departure (by the end of the first day there are no Europeans left in the winner's bracket). The banter has all the jostle and ribaldry of the football stand. Yet here, it's accelerated and amplified by technology, as if all 50,000 supporters at Wembley Stadium could be heard speaking at once, with equal volume. It's exhilarating. It's exhausting.
It's also, in many cases, unpleasant. When Ortiz takes to the stage, the chat blackens into a torrent of comments about her appearance; something that none of her male co-competitors suffer. "I hate how the fighting game community treats LGBT people," writes one viewer. Ortiz may be a veteran champion in the Street Fighter scene but, as a transgender woman, she is a wearied target of harassment. Since 2003, Ortiz has finished seventh or higher 12 times at the world's biggest fighting game tournament, Evolution Championship Series (or EVO), now held annually in Las Vegas. Even though she races to tonight's final, for many of the online audience, her expertise is the less important aspect of her identity. "My skill takes a backseat," Ortiz told a reporter for Playboy last year. "People question my gender identity v me playing the game."
Ortiz's skill is, nevertheless, self-evident. By 9:30pm, she has beaten last year's winner, Ryota "Kazunoko" Inoue, without losing a bout to make this an all-American final. She learned to play Street Fighter as an eight-year-old, when her father, a metal worker from California would take her and her cousin to a local amusement arcade. An interest in the game soon blossomed into an obsession. Ortiz would compete at the arcades after school each day. She entered and won her first Street Fighter tournament at 13. "It was unheard of for a kid my age to have thousands of dollars, she told me. "Kids just didn't have that kind of money, especially in the early 2000s."
A growing concern
Those prize pots have grown drastically in recent years in the nascent world of eSports. An influx of advertising dollars, and interest from sports channels eager to broadcast the zeitgeist, has brought major money into the scene. Coca-Cola, Nissan, Red Bull and Intel are all inveterate sponsors on the scene, targeting the huge crowds that follow titles like League of Legends, Dota 2 and Starcraft 2 (one that game's best players, Sasha Hostyn, is also a transgender woman). Compared to those heavy hitters, Street Fighter is something of a middleweight. Earlier this year at the Staples Centre in Los Angeles, a crowd of 20,000 gathered to watch the 2016 championship final of League of Legends, the widest played video game in the world. The winners of that event, the drearily named SK Telecom (the team is backed by the South Korean wireless telecommunications operator) took home a $2m purse.
You may also like...