I tried to do my shopping with Amazon Dash buttons so you don't have to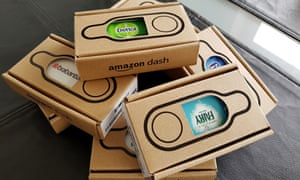 The internet of shopping is finally here: magic-like buttons that when pressed have goods delivered to your door, without any need to log on to a website or get out your credit card. The branded Dash buttons are Amazon's latest offering to make it easier to shop, so I bought a load of them to find out whether it's the retail revolution we didn't even know we were looking for.
There is no Dash button for ordering Dash buttons, so I looked though the 40 or so available and found eight for things I would normally buy. They're £5 each, so I spent £40 for this convenience, but with the promise £5 would be taken off the first purchase made with each button making them free in the long run.
A box of boxes turned up the next day. Each Dash button comes in a small cardboard box. Unpacking them and setting them up was straightforward if a little tedious. For each one you have to do a little song and dance with the Amazon app.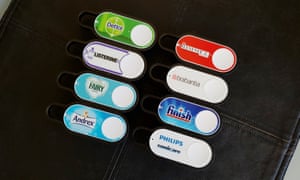 Select the option to set up a new Dash, tell it the password to your Wi-Fi network, select the product and quantity and then hit save. The delivery and payment information is pulled from your Amazon one-click order settings; there's no way to set per-item delivery locations.
It doesn't take too long to set one up, but doing eight in one go got old really fast. Once activated though, that's you done. In future all you have to do is hit the button – although that proved to be too easy.
Thankfully when you have pushed the button you get until evening that day to cancel the order. When you've made an order a notification pops up from the Amazon app on the device you set up the Dash buttons with, but you can and probably should activate that notification on every device you own.
The first time the notification saved my bacon was when I installed the Dash buttons. They come with a sticky strip on the back and a small black hanging bracket that you can attach to a hook or similar. I chose to stick them in place out the way, next to where I'd normally store whatever it was. In the bathroom cabinet for toothbrush heads and Listerine, under the sink for bin bags, cleaning fluid, that kind of thing.
By the time I'd managed to stick them in place I'd already ordered a set of new toothbrush heads by accident, and very nearly some toilet roll and washing tablets, none of which I needed. A couple of taps in the app and the order was cancelled.
You may also like...