Alan Pardew: 'People ask about England but why would I leave Crystal Palace?'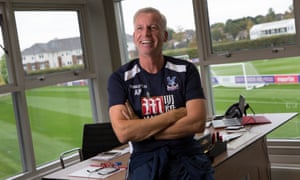 Early afternoon at Crystal Palace's Beckenham headquarters and, as first-team players drift off contemplating their pre-match homework, Alan Pardew is talking progress. He has just left his analysts working out how best to customise a brand new computer programme which will allow the manager to pore over previous performances with his squad, à la Gary Neville at his Skypad, on a giant touchscreen television. The glorified tablet dominates the back wall of the main meeting room in the revamped complex.
Back across the canteen area, in their own corner of an open-plan office, Pardew's senior coaching team are sifting through scouting reports and preparing their summaries of Leicester City, opponents in waiting on Saturday. They are joined in their huddle by the sports psychologist and former England off-spinner Jeremy Snape, whose part-time role centres primarily on communication. "He's not here to sit my players on a couch and ask them about their childhood," says Pardew. "His job is to help me get my ideas across."
There are timeslots scheduled with medical and fitness staff whose mornings have already been spent keeping tabs on realtime data from training to ensure no player exceeds his target mileage or workload, with injuries and recovery in mind. As for the homework, checks will be made on the central server that those to feature against the champions have scrutinised video clips of their immediate opponents, accessible via an app on their smartphones. The level of detail is painstaking on what would otherwise appear, to lurch into Uefa parlance, a run-of-the-mill "match day minus two".
"It's a different world to dear old Mitcham all those years ago," offers Pardew, reflecting fondly on Palace's base during his playing days, when strength and conditioning revolved more around dreaded cross-country runs on windswept Farthing Downs or weights in a dingy unheated gym. "But you have to be right at the cutting edge. There is more knowledge out there, and you've got to use it or fall behind. That is what I'm being allowed to do here, on and off the pitch. I've been given the chance to make something special.
"When people ask me about England … well, if I was still at Newcastle, I'd be pretty keen on that England job. But, with all this here, I'm left thinking: 'Why would I really want to leave this club now?' Obviously I'd like to win trophies, and that's very difficult even if we did come ever so close last season. But that isn't the only way to measure success. Success can be a legacy. Maybe I can create one here so that, one day, people look back and say: 'When Pardew was there that was a great period for the club.' I remember the chief executive at Southampton after Nicola Cortese thanking me for the platform I left them. That recognition is always nice. That's like winning a trophy for me."
It is 22 months since Pardew walked away from Newcastle, ninth in the top flight with average gates pushing 52,000, to return to his native south London and a club whose exploits first caught his imagination as Malcolm Allison, resplendent in his lucky fedora, took Palace to the 1976 FA Cup semi-finals. The team loitered just beneath the relegation cut-off but, if there had been any doubt about accepting the chairman Steve Parish's approach, a phonecall with Tony Pulis offered reassurance. "He'd walked away, but told me: 'Pards, there's a lot of growing that club could do. You can definitely take them forward.' It reinforced what I'd suspected. The fans' frustration with the owner [Mike Ashley] at Newcastle had turned to frustration with me and the owner, so the timing was right. And it wasn't as much of a gamble as people thought. If I could keep Palace up, we'd be the only London-based Premier League team south of the river." That was achieved with a 10th place finish, establishing a platform for progression.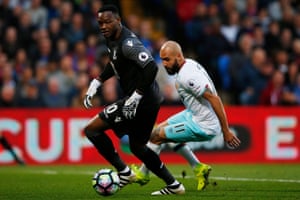 He had spent his first summer back at Palace overseeing the upgrade of the training complex and, aside from the signing of Yohan Cabaye, tweaking the playing squad. This time around, the changes implemented on the pitch have been more far-reaching. A team whose forte had been resilience and biting on the counterattack needed to impose themselves as they became more established at this level. That wretched run of league form, yielding two wins in 21 matches, over the second half of last season had convinced Pardew change was required. His mind had been made up long before the FA Cup final was lost to Manchester United. "Everyone pointed to a contrast between the first and second halves of our season but, while that existed in terms of results, it didn't in terms of our ability to control games," he says. "What that run showed me was we couldn't properly impose control, and the depth of quality wasn't there to cope with injuries.
"So we reacted, in terms of the first team but also up and down the club. You can point to the transfer policy, which has obviously stepped up in terms of the personnel we're bringing in – Cabaye last summer, now Christian Benteke – but you don't always get it right. When we finished fifth with Newcastle [in 2012] we felt changing Danny Simpson and getting in a better right-back would be the way forward. He left and, a few years later, became a Premier League title winner with Leicester. We joke about that when we see each other. So it's not just about bringing players in.
You may also like...